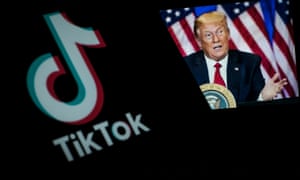 13:12




Lawyer claims Assange was told that Trump would pardon him if he exonerated Russia over DNC leaks





12:57




Trump to block US downloads of TikTok, WeChat on Sunday – reports





12:28




US Forest Service says firefighter died battling wildfire in San Bernardino National Forest





12:18




Mike Bloomberg launches first ad as part of $100m campaign backing Biden in Florida





11:42




Departing US ambassador to China blames Beijing for coronavirus





11:31




Trump and Biden both head to Minnesota as early voting begins

15:18
Two other states — Virginia and South Dakota — will also start early voting today, along with Minnesota.
At one early voting site n Richmond, Virginia, dozens of people lined up outside the polling station even before it opened.
Reminder: there are 46 days left until the presidential election on November 3.

15:03
Trump and Joe Biden are both campaigning today in Minnesota, a state that Hillary Clinton won by just 1.5 points in 2016.
The president will speak at a "Great American Comeback" event in Bemidji, and Biden will travel to Duluth for a tour of a union training center.
Trump has repeatedly said he wants to flip Minnesota in November, but polls indicate Biden has a significant edge in the state.
According to a Washington Post-ABC News poll released this week, Biden leads Trump by 16 points among Minnesota's likely voters, 57%-41%.
But there is another reason Trump and Biden may both be invested in traveling to Minnesota today: it is the first day of early voting in the state.

14:38
This is Joan Greve in Washington, taking over for Martin Belam.
The AP has spoken to more migrant women who say they were operated on without their informed consent by a gynecologist, Dr Mahendra Amin, at an immigration detention center in Georgia.
The AP reports:



An Associated Press review of medical records for four women and interviews with lawyers revealed growing allegations that Amin performed surgeries and other procedures on detained immigrants that they never sought or didn't fully understand. Although some procedures could be justified based on problems documented in the records, the women's lack of consent or knowledge raises severe legal and ethical issues, lawyers and medical experts said.

Amin has performed surgery or other gynecological treatment on at least eight women detained at Irwin County Detention Center since 2017, including one hysterectomy, said Andrew Free, an immigration and civil rights lawyer working with attorneys to investigate medical treatment at the detention center. Doctors on behalf of the attorneys are examining new records and more women are coming forward to report their treatment by Amin, Free said.

'The indication is there's a systemic lack of truly informed and legally valid consent to perform procedures that could ultimately result — intentionally or unintentionally — in sterilization,' he said.

The AP's review did not find evidence of mass hysterectomies as alleged in a widely shared complaint filed by a nurse at the detention center. Dawn Wooten alleged that many detained women were taken to an unnamed gynecologist whom she labeled the 'uterus collector' because of how many hysterectomies he performed.
The lawyer who helped file the complaint previously told the Washington Post that she had not directly spoken to anyone from the detention center who had been forced to receive a hysterectomy, but rather she wanted to trigger an investigation into the possibility.
The complaint sparked immediately outcry and comparisons to past historical instances of the US government forcing women from marginalized communities to undergo forced sterilization. As the AP notes, 33 US states had forced sterilization programs in the 20th century.

14:01
In an alternative timeline that you imagine he often thinks about, Tim Kaine would probably be less then fifty days away from standing for election for a second term as vice president. He very much isn't. But he has this morning urged Virginians to go out and cast their vote, as it is another state, like Minnesota, where early voting starts today.
It looks like it is busy already according to this report.
And with that, I'm now off to an alternative timeline myself, as I'm done for the day. Joan Greve will be with you shortly. Have a great weekend, take care and stay safe.

13:49
Stephen Collinson at CNN offers us this review of Joe Biden's performance at the network's own town hall last night, saying that the Deomcratic nominee "shows the qualities Trump lacks"



At a unique drive-in event that reflected the reality of America's socially distanced election season, Biden lacerated the President over the pandemic, became apoplectic several times about Trump's reported comments that US war dead were "suckers" and "losers," and marveled that in a recent poll, foreigners expressed more trust in Russia's Vladimir Putin and China's Xi Jinping than in the President of the United States. The former vice president, in his element near his boyhood home of Scranton, Pennsylvania, also displayed the kind of sympathetic connection with voters that Trump, more at home in his rowdy rallies, struggles to approach.

Biden offered more compassion in a few moments for the victims of the Covid-19 disaster that has crushed the rhythms of normal life than the President has for most of this year.
But, as he notes:



While Biden offered coherence and demonstrated a facility of detail at the event, the central question of the election is whether Americans are looking for this kind of traditional presidential leadership. It's still possible sufficient voters who prefer Trump's cultural arguments rooted in race or his hardline law-and-order or economic message will give him an electoral college victory.
Read it here: CNN – Biden shows the qualities Trump lacks at CNN town hall

13:39
The Trump administration has ramped up efforts to purge "untrusted" Chinese apps from US digital networks throughout the year, and has called TikTok and WeChat "significant threats".
TikTok has 100 million users in the United States and is especially popular among younger Americans. It was implicated earlier this year in the dismal attendance at the Trump campaign 'comeback' rally in Tulsa.
At the time Kenya Evelyn in Washington reported for us that K-pop fans and users of TikTok had claimed tickets to the rally in then did not use them, as part of a coordinated effort which helped to leave hundreds of seats empty in a 19,000-capacity venue.
The scheme stemmed from a 11 June tweet from the Trump campaign promoting free registration online and via cellphones. The scheme exploded on the TikTok app, where young users implored followers to join in.
"Trump has been actively trying to disenfranchise millions of Americans in so many ways, and to me, this was the protest I was able to perform," Erin Hoffman, an 18-year-old New Yorker, told the New York Times, adding that she reserved two tickets and persuaded a parent to book two more.
WeChat has had an average of 19 million daily active users in the United States, analytics firms Apptopia said in early August. It is popular among Chinese students, ex-pats and some Americans who have personal or business relationships in China.
WeChat is an all-in-one mobile app that combines services similar to Facebook, WhatsApp, Instagram and Venmo. The app is an essential part of daily life for many in China and boasts more than 1 billion users.

13:34
Owners ByteDance have been going through the process of trying to sell the US operation of TikTok in a way that will satisfy both the US and the Chinese governments.
The US government is currently reviewing the plan for Oracle to acquire its US operation. However, earlier this week, Donald Trump questioned that acquisition.
"Conceptually I can tell you that I don't like that," Trump told a news conference on Wednesday when asked about a reported proposal to give Oracle only a minority share. "I'm not prepared to sign off on anything. They're going to be reporting to me tomorrow morning and I'll let you know."
Trump said he would be briefed about a proposal that calls for Oracle to become a "trusted technology provider" for TikTok's American operations, but he did not favour the idea of having the Chinese firm retain control. "It has to be 100% as far as national security is concerned," Trump said. "I have to see the deal."
In August TikTok announced that it was to sue the US government over Trump's executive order. In a blogpost, TikTok said it strongly disagreed with the White House's position that the company was a national security threat, saying it had "taken extraordinary measures to protect the privacy and security of TikTok's US user data".
Chief executive Kevin Mayer subsequently resigned at the end of August.
"In recent weeks, as the political environment has sharply changed, I have done significant reflection on what the corporate structural changes will require, and what it means for the global role I signed up for," his resignation letter to employees said.
"Against this backdrop, and as we expect to reach a resolution very soon, it is with a heavy heart that I wanted to let you all know that I have decided to leave the company."
In a statement, TikTok thanked Mayer for his time and wished him well. "We appreciate that the political dynamics of the last few months have significantly changed what the scope of Kevin's role would be going forward, and fully respect his decision," it said.

13:24
Speaking of polling, the New York Times widget on how polling might translate to Electoral College votes tells an interesting story today. They break it out into three separate categories.
If you only count states where one candidate or the other leads in the polls by at least three points, Joe Biden accumulates 291 Electoral College votes, easily enough to put him into the White House.
If the polls translate exactly to the results – which the New York Times says they clearly won't – then Biden romps home with 353 votes to Donald Trump's 185.
However, the one that will be giving Democratic strategists heart palpitation is the last one. They calculate what would happen with the Electoral College "if state polls are as wrong as they were in 2016". That sees Trump re-elected 278-260.

13:19
In this week's Politics Weekly Extra podcast, Jonathan Freedland speaks with our Washington DC bureau chief David Smith about why Joe Biden is seemingly doing better than Hillary Clinton did in the polls in 2016. You can listen to it here:

13:12
Lawyer claims Assange was told that Trump would pardon him if he exonerated Russia over DNC leaks
Meanwhile, in a court in London, it appears that Julian Assange's lawyer has this morning claimed that Assange was informed that Donald Trump would offer him a pardon if he could confirm that Russia was not the source of the DNC leaks.
Assange's lawyer, report Reuters, said she observed a meeting where former Republican US Representative Dana Rohrabacher and Charles Johnson, an associate known to have close ties to the Trump campaign, made the offer.
"The proposal put forward by Congressman Rohrabacher was that Mr. Assange identify the source for the 2016 election publications in return for some form of pardon," Robinson said in a witness statement given to the court.
Australian-born Assange, 49, is fighting to stop being sent to the US, where he is charged with conspiring to hack government computers and violating an espionage law over the release of confidential cables by WikiLeaks in 2010-2011.
Updated


13:07
Secretary of commerce Wilbur Ross has now issued an official confirmation that the commerce department plans to "prohibit WeChat and TikTok transactions to protect the national security of the United States". The statement says:



In response to President Trump's Executive Orders signed 6 August 6 2020, the Department of Commerce today announced prohibitions on transactions relating to mobile applications (apps) WeChat and TikTok to safeguard the national security of the United States. The Chinese Communist Party (CCP) has demonstrated the means and motives to use these apps to threaten the national security, foreign policy, and the economy of the U.S. Today's announced prohibitions, when combined, protect users in the U.S. by eliminating access to these applications and significantly reducing their functionality.
The statement goes on to say that as of September 20, 2020, the following transactions are prohibited:
Any provision of service to distribute or maintain the WeChat or TikTok mobile applications, constituent code, or application updates through an online mobile application store in the US
Any provision of services through the WeChat mobile application for the purpose of transferring funds or processing payments within the US
The statement adds that as of September 20, 2020, for WeChat and as of November 12, 2020, for TikTok, the following transactions are prohibited:
Any provision of internet hosting services enabling the functioning or optimization of the mobile application in the US
Any provision of content delivery network services enabling the functioning or optimization of the mobile application in the US
Any provision directly contracted or arranged internet transit or peering services enabling the function or optimization of the mobile application within the US
Any utilization of the mobile application's constituent code, functions, or services in the functioning of software or services developed and/or accessible within the US
It also quotes Barr as saying:



Today's actions prove once again that President Trump will do everything in his power to guarantee our national security and protect Americans from the threats of the Chinese Communist Party. At the President's direction, we have taken significant action to combat China's malicious collection of American citizens' personal data, while promoting our national values, democratic rules-based norms, and aggressive enforcement of US laws and regulations.

12:57
Trump to block US downloads of TikTok, WeChat on Sunday – reports
Reuters have just posted up an exclusive where they report that the US commerce department plans to issue an order today that will bar people in the US from downloading Chinese-owned messaging app WeChat and video-sharing app TikTok starting on 20 September. David Shepardson writes:



The officials said the ban on new US downloads of TikTok could be still rescinded by President Donald Trump before it takes effect late Sunday as TikTok owner ByteDance races to clinch an agreement over the fate of its US operations.

ByteDance has been talks with Oracle Corp and others to create a new company, TikTok Global, that aims to address US concerns about the security of its users' data. ByteDance still needs Trump's approval to stave off a US ban.

The Commerce Department order will "deplatform" the two apps in the United States and bar Apple Inc's app store, Alphabet Inc's Google Play and others from offering the apps on any platform "that can be reached from within the United States," a senior Commerce official told Reuters.
Read it here: Reuters – Trump to block US downloads of TikTok, WeChat on Sunda – officials

12:54
Texas is a big prize in a US presidential election – only California sends more electors than Texas' 36. In 2016 the Lone Star state voted for Donald Trump, and a Democratic nominee hasn't carried the state since Jimmy Carter in 1976. But one question constantly raised is the extent to which voter suppression keeps it a red state. Alexandra Villarreal reports for us:



Across the United States, the coronavirus pandemic has threatened the democratic process ahead of the presidential election. But the situation is even more acute in Texas, where Republicans have long devised a tortuous system that actively disadvantages minority communities who would generally lean Democratic. Long lines, voter intimidation, voting machine malfunctions and other issues afflicted almost 278,000 Texans during the midterm election in 2018, according to the Texas Civil Rights Project.

Most recently, Harris county – by far Texas's most populous county, which includes Houston and has the most Covid-19 cases and fatalities in the state – became embroiled in a court battle with the Texas attorney general over whether the county clerk can even send mail-in ballot applications to all voters (a state district judge's recent decision says he can, but the Texas supreme court blocked him from doing so "until further order" as the state appeals).

From antiquated voter registration practices to a controversial voter ID law, "Republicans have spent the better part of the last two decades" finding ways to challenge Texas voters, said Rose Clouston, voter protection director for the Texas Democratic party. Now, the myriad ways in which they neglected to "bring Texas's election into the 21st century are only exacerbated and more problematic in a pandemic".
Read it here: Texas is a 'voter suppression' state and one of the hardest places to vote. Will it help Trump win?