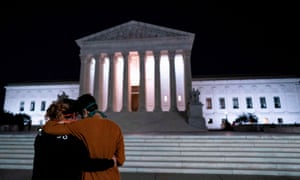 15:12




Pelosi: Democrats won't shut down government over supreme court nominee





14:20




Bill Clinton: McConnell and Trump's core value is power





13:55




Mourners at vigil vow to fight Trump and McConnell





13:41




Poll: voters don't trust Trump on Covid vaccine





13:03




Good morning…

15:20
Republican senator Tom Cotton, who is on Donald Trump's shortlist to replace Ruth Bader Ginsburg on the supreme court, offered an extraordinary observation of the reaction to her death on Fox News Sunday, reports Richard Luscombe.
"The Democrats are saying radical things right now, Democrats are threatening to riot in the streets, Democrats are already rioting in the streets though," Cotton told host Chris Wallace.
"They're threatening to pack the court, they were already threatening to pack the court," he added, referring to suggestions any Democratic-led Senate might add seats to the supreme court next year.
Cotton's assessment contrasts sharply with scenes in Washington DC on Saturday night, when thousands attended a peaceful candlelight vigil to celebrate the life of the 87-year-old justice, who died on Friday.
The protests that swept the nation in the wake of the Memorial Day killing of George Floyd in Minneapolis were over race and police brutality, but Cotton appeared to want to link the reaction to that episode to the upcoming fight for the supreme court seat.
Cotton, a right-wing Arkansas senator, had acknowledged his interest in the vacancy. But that hope was effectively ended by Trump's pronouncement that he would pick a woman.
Cotton dismissed allegations of hypocrisy directed at Republican Senate majority leader Mitch McConnell, who has promised a vote this year on Trump's choice after successfully blocking the confirmation of then-president Barack Obama's nominee Merrick Garland in 2016 because it was an election year.
"In 2014, the American people elected a Republican majority to the Senate to put the brakes on President Obama's judicial nominations," Cotton said.
"In 2018 we had a referendum just a month before the midterms, [the] vote on Justice Kavanaugh. Democratic senators can look at what happened, four of their colleagues lost their re-election a month after voting against Justice Kavanaugh.
"We're not going to rush, cut corners or skip steps. The Senate will exercise our constitutional duty. We'll process that nomination, we'll conduct hearings, we'll be thorough and deliberate and careful just as we were with the nominations of Justice Gorsuch and Justice Kavanaugh."

15:12
Pelosi: Democrats won't shut down government over supreme court nominee
Updated


14:20
Bill Clinton: McConnell and Trump's core value is power
Updated


13:55
Mourners at vigil vow to fight Trump and McConnell
Our Washington bureau chief went out to the steps of the supreme court last night, where tributes were paid to Ruth Bader Ginsburg – and determination to fight the Republican push to replace her was everywhere to be found…
On a pavement across the street from the supreme court, school teacher Amanda Stafford chalked the words carefully: "That's the dissenter's hope: that they are writing not for today, but for tomorrow."
It was a quotation from Ruth Bader Ginsburg, a justice more renowned for her dissents than her majority opinions, including on the Bush v Gore case that decided the 2000 presidential election. Ginsburg died from pancreatic cancer on Friday aged 87, the newest jolt to an angry, divided and fragile nation.
On Saturday night, as summer succumbed to the chill of autumn, thousands came to mourn her at a vigil outside the court in Washington. Some made speeches. Others sang songs. More joined hands or laid flowers and candles. Stafford paid tribute in chalk.
"I wanted to show words that are empowering at a time when a lot of people are feeling worn out," the 31-year-old from Alexandria, Virginia, explained. "As a woman in a country getting ever more divided, it's important to come out and make a stand for someone who made this her life's work."
David's full report is here:

13:41
Poll: voters don't trust Trump on Covid vaccine