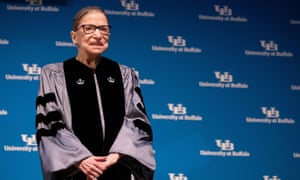 13:38




McConnell – 'stronger than mule piss'





13:10




Good morning…

14:53
Such was Ruth Bader Ginsburg's standing that even members of the Trump family – who are hardly known for complimenting liberals – have been praising her life and career.
Donald and Eric Trump paid tribute to her last night, with Melania and Donald Jr joining them this morning.
"Agree with her or not, she was a true trailblazer and fighter until the end," tweeted Donald Jr this morning. The First Lady, meanwhile, called Bader Ginsburg's death "an immense loss" adding on Twitter: "Her tenacity & strength were matched by her intellect & compassion, & her spirit will live on in all she has inspired. My prayers are with her family & all who loved her."

14:39
If you're asking yourself what happens next, or how the confirmation of a supreme court justice works, or any similar question, national affairs correspondent Tom McCarthy has just the piece for you:

14:25
It seems Joe Biden may be planning on staying quiet today…
…while Donald Trump has not yet passed comment this morning:
Updated


14:02
Slight hobby horse here: Ruth Bader Ginsburg's replacement may well be decided and pushed through by a president who lost the popular vote by almost 3 million ballots and a Senate where, if you count the popular vote, the party which holds control received almost 18 million fewer than the one which sits in the minority.
Whichever way you think about that, even if you're not like me and go to sleep every night cursing Gunning Bedford Jr and raving about why there should be two Dakotas, it's a bizarre, alarming and uniquely American situation.
Here's a very good explainer from Vox. And here's a chunk of an interview I did this summer with someone else who thinks about such things, if in much greater detail and with far greater knowledge than me: former Obama speechwriter David Litt:



The administration lurches from crisis to crisis.

But Republicans who hold the Senate show a steadier hand, achieving structural change by confirming conservative judges. Reports suggest some Republicans are ready to lose the White House, so long as they keep the Senate.

"It's a fascinating window into the way that our democracy and our political process have become warped," Litt says. "Because now if you hold the Senate, and increasingly, all you need to do is hold 41 votes in the Senate [to be able to block legislation] … if you're in the party that believes the government shouldn't do anything, you can pretty much run the country with 41 senators."

"Republicans are also counting on the courts which they have packed to do their legislating for them. So they can sit back and watch Trump's judges continue to enact Trump's agenda, even if he leaves office."
The whole piece is here:

13:38
McConnell – 'stronger than mule piss'
Senate Democrats will reportedly hold a caucus call at 1pm today, to discuss their first moves in the unfolding battle over a replacement for Ruth Bader Ginsburg.
In the meantime, should you find yourself wondering if Mitch McConnell will succeed in the coming fight to get a supreme court nomination done in less than 50 days, right before a presidential election – or in the lame duck period after it, if needs be – consider this.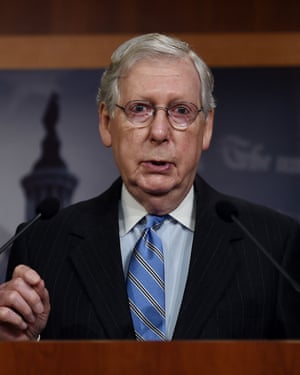 When Donald Trump was wobbling on Brett Kavanaugh, his second supreme court nominee who faced accusations of sexual assault which, amid astonishing scenes in a Senate committee room, he strenuously denied, Mitch McConnell famously told the president: "I'm stronger than mule piss" on this guy.
Kavanaugh was duly confirmed to replace the retiring Anthony Kennedy, a conservative project done and dusted, and the Senate majority leader's staff duly celebrated with special "Mule Piss" cocktails.
McConnell's determination to remake the federal judiciary has been as widely reported as his "mule piss" remark. For just one instance, he told Tim Alberta of Politico, the author of American Carnage: On the Frontlines of the Republican Civil War and the Rise of President Trump:



When I woke up the morning after election night 2016, I thought to myself, 'These opportunities don't come along very often. Let's see how we can maximise it.'"

13:10
Good morning…
Justice Ruth Bader Ginsburg, who died on Friday at the age of 87, was a giant of American public life. Tributes have poured in, mourners have gathered at the court in Washington, its steps strewn with flowers.
Tributes and memorials will continue. But now she belongs to the ages, the politics of the Trump age can – and will – take things from here.
"My most fervent wish," the justice said days before her death on Friday, "is that I will not be replaced until a new president is installed."
She may not be, but the Senate majority leader, Mitch McConnell, and Donald Trump are going to give it a damned good try.
There are 45 days to go until the election and confirmations are lengthy and fraught things, as Brett Kavanaugh proved in 2018. But even should Trump lose to Joe Biden on 3 November, and the Democrats take back the Senate, there is a lame duck period until the inauguration in late January. Republicans in the Senate require a simple majority to put a fifth solid conservative – if you take Chief Justice John Roberts for a wobbler, as some on the right do – on the highest court.
The statements and views of key Republican senators now come under the spotlight.
Lindsey Graham, chair of the judiciary committee and an avid Trump ally facing a tough re-election fight in South Carolina, said this in 2016, when McConnell was refusing to give Barack Obama's pick to replace Antonin Scalia, Merrick Garland, even so much as a hearing:



I want you to use my words against me. If there's a Republican president … and a vacancy occurs in the last year of the first term, you can say Lindsey Graham said, 'Let's let the next president, whoever it might be, make that nomination.'"
Lisa Murkowski of Atlanta, a moderate who has gone against Trump before, said this shortly before Ginsburg's death: "I would not vote to confirm a supreme court nominee. We are 50-some days away from an election."
Susan Collins of Maine, a moderate who has expressed concerns about any threat to abortion rights, is well down in her re-election race.
Mitt Romney of Utah isn't up for re-election but he was the only Republican to vote to impeach Trump. He will be watched closely too.
Of course, the word of the average Republican senator – the average politician, to be fair – isn't worth the tweet it's written in or the microphone it's hurriedly spoken into. A battle royale is on the way in Washington. Here's Lauren Gambino: