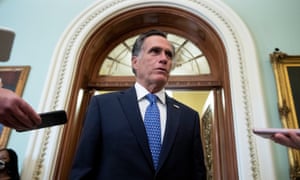 16:22




Trump addresses the UN General Assembly





14:59




Romney supports moving forward with supreme court nomination





14:45




Trump confirms supreme court pick will be announced Saturday





13:09




Poll: Trump and Biden tied in Iowa battleground – numbers show stark gender divide





13:04




Poll: Only 39% of Americans say they would take a first generation Covid vaccine





12:43




Kamala Harris to visit Flint and Detroit in Michigan today





12:18




Michael Bloomberg helps raise millions to aid Florida felons restore their voting rights

16:22
Trump addresses the UN General Assembly
As Mitt Romney announced his support for advancing a supreme court nomination, Trump addressed the United Nations General Assembly in a pre-recorded video.
In his speech, the US president attacked China, blaming Beijing for the coronavirus pandemic, and celebrated his "America First" agenda.
Trump abruptly ended his remarks after seven minutes, using less than half his allocated time.
Julian Borger, the Guardian's world affairs editor, said this of Trump's remarks:



Trump's speech was a barnstorming seven minutes, less than half the time he was allotted, and in a tone just short of yelling. It was a speech designed for a virtual campaign rally and that is its destiny, to be played on repeat on Republican social media.

Much of the speech was a ferocious attack on China. He named the country 11 times in all. In the first few seconds he had named Covid-19 the 'China virus', and called for Beijing to be held accountable.

Having dismissed the pandemic as affecting 'virtually nobody' at a rally yesterday, he called the fight against it as a 'great global struggle' comparable to the second world war. And Trump went on to make a series of false claims about what the US government was doing about the pandemic.

The first was the biggest. He said 'we launched the most aggressive mobilization, since the second world war.'

In fact, the federal government has handed over leadership to the states, and its main impact was to broadcast misleading information, downplaying the threat. Trump was speaking just after the US passed the milestone of 200,000 dead from the pandemic – a statistic he did not mention.

There will be some relief in the UN, where there were fears that the US president would announce the severing of more US funding of the organisation. Instead the hostile fire was directed mostly on China. The brevity of the speech limited the number of targets.
For more updates on the UN General Assembly, follow the Guardian's live blog:

16:07
Senate minority leader Chuck Schumer appears to be declaring all-out war against majority leader Mitch McConnell, as Republicans move steadily toward confirming Trump's supreme court nominee.
"Leader McConnell has defiled the Senate like no one in this generation, and Leader McConnell may very well destroy it," Schumer said, accusing Republicans of stealing two supreme court seats.
As a reminder, control of the Senate is up for grabs in the November elections. If Democrats win the White House, they need to flip three Senate seats to take control of the chamber. If Joe Biden loses, they will need to flip four seats.

15:52
Senator Mitt Romney argued that it was "appropriate" for the court to have a more conservative bent to represent a "center right" country.
"It's also appropriate for a nation that is, if you will, center right to have a court which reflects center right points of view," Romney told reporters on Capitol Hill.
But as a Daily Beast reporter noted, both Trump and Romney, the 2012 Republican presidential nominee, lost the popular vote by millions of votes.
And while Republicans make up a majority of the Senate, they actually represent a minority of the country, so it's unclear the US is truly "center right."

15:38
It has been a rather remarkable year in terms of the relationship between Trump and Mitt Romney.
In February, Romney became the only Republican senator to support removing Trump from office during the president's impeachment trial.
Less than eight months later, Romney now says that same president should be able to nominate a supreme court nominee, with six weeks to go until election day.

15:35
Senator Mitt Romney told reporters that he made his decision to move forward with a supreme court nominee based on "precedent."
"The decision to proceed now with President Trump's nominee is also consistent with history," Romney said.
Romney also argued that it is sensible to have a court with "more of a conservative bent than it's had over the last few decades."
"My liberal friends over many decades have gotten very used to the idea of having a liberal court, but that's not written in the stars," Romney said.

15:18
Capitol Hill reporters pressed Mitt Romney on his statement supporting advancing a supreme court nomination, but the Republican senator dodged questions about voting in a lame-duck session and Mitch McConnell's refusal to consider Barack Obama's supreme court nominee in 2016.

15:15
Senator Mitt Romney's announcement that he will support moving forward with a supreme court nomination, virtually guaranteeing a confirmation, has intensified demands for Democrats to embrace packing the court.
From a legal writer for Slate:

15:07
Senator Mitt Romney's announcement that he will support moving forward with Trump's supreme court nomination increases the likelihood that the vote will happen before election day, on November 3.
Senate majority leader Mitch McConnell pledged yesterday that a vote would happen "this year," but he did not specify whether it would occur before or after election day.
The president has said he would prefer that the nominee to replace Ruth Bader Ginsburg be confirmed before November 3.
With likely 51 Republican senators backing McConnell's proposal to move forward, the nomination is likely to sail through.
Updated


14:59
Romney supports moving forward with supreme court nomination
Senator Mitt Romney announced he would support moving forward with Trump's supreme court nominee.
"I intend to follow the Constitution and precedent in considering the president's nominee. If the nominee reaches the floor, I intend to vote based upon their qualifications," Romney said.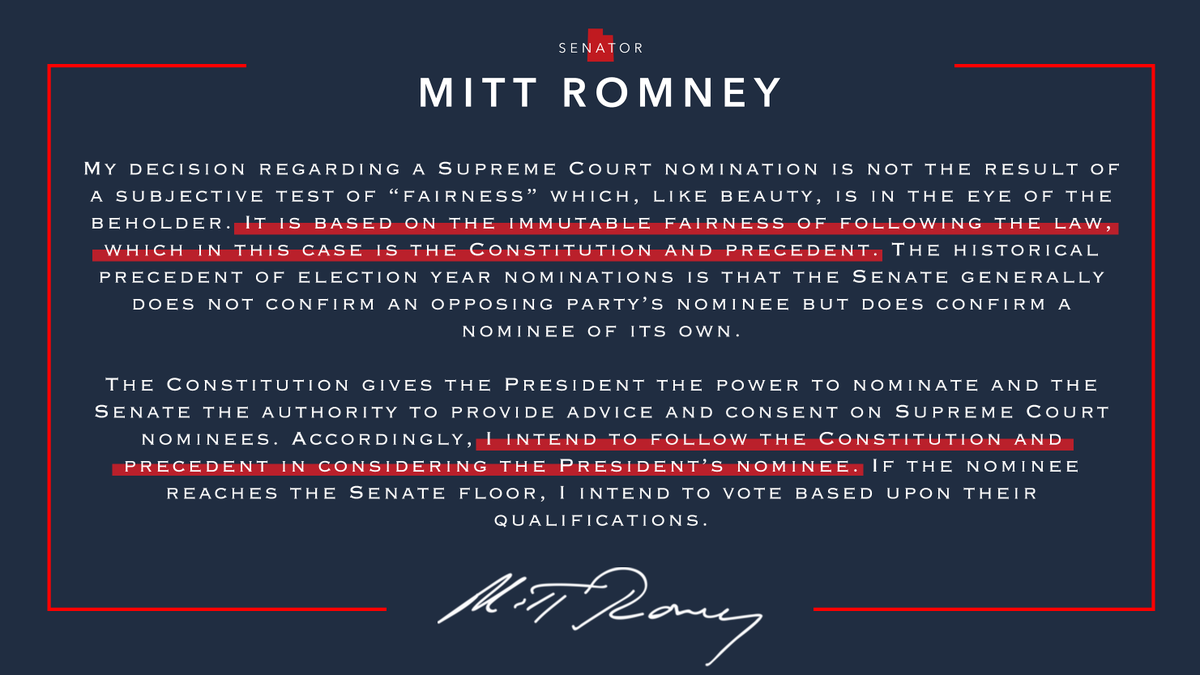 Romney was considered the last major question mark in Republicans' plans to move forward with the nomination, after Cory Gardner announced yesterday that he also supported moving forward with the nomination.
Only two Republican senators — Susan Collins of Maine and Lisa Murkowski of Alaska — have called for waiting to confirm a nominee until after election day, on November 3.
Senate majority leader Mitch McConnell now has 51 likely votes, one more than necessary, to confirm Trump's eventual nominee.
Updated


14:55
A new Georgia poll out this morning shows Trump and Joe Biden tied in the traditionally Republican state.
The poll, conducted by the University of Georgia's School of Public and International Affairs for the Atlanta Journal-Constitution, found Trump and Biden each attracting the support of 47% of the state's likely voters.
Trump won Georgia by 5 points in 2016, and he almost certainly needs to carry the state again to secure a second term.
The state's two Senate races are also hotly contested. Senator David Perdue and Democratic candidate Jon Ossoff are virtually tied, with Perdue at 47% and Ossoff at 45%, within the poll's 4-point margin of error.
The special election for Republican incumbent Kelly Loeffler's seat is also very close. Loeffler leads with 24%, but both Republican congressman Doug Collins and Democratic candidate Raphael Warnock are at 20%.

14:45
Trump confirms supreme court pick will be announced Saturday
Trump has confirmed that he will announce his nominee to fill the supreme court of Ruth Bader Ginsburg on Saturday at the White House.
The president had previously said he would announce his choice either Friday or Saturday, following this week's ceremonies honoring Ginsburg.
Ginsburg will lie in repose at the supreme court on Wednesday and Thursday and lie in state at the Capitol on Friday.

14:30
This is Joan Greve in Washington, taking over for Martin Belam.
Olivia Troye, a former aide to Vice President Mike Pence who has been speaking out about her time at the Trump White House, said the president's comments about coronavirus "disappearing" were "frightening."
Troye told MSNBC host Andrea Mitchell, "When you're the president, words matter."
Asked why she decided to speak out now, Troye said, "I felt that in my heart and my entire being, I think American lives were continuing to be on the line."
Troye expressed alarm that Trump was more focused on his personal agenda than protecting the country from coronavirus, which has now claimed nearly 200,000 American lives.
Troye, a former member of the White House coronavirus task force, also noted the team held a meeting "late January" about how dangerous the coronavirus could be for the country.
The former aide also confirmed Trump argued coronavirus could be a positive thing because he wouldn't have to shake hands with people anymore.
Troyte told Mitchell, "He said when you're a politician, you have to shake a lot of hands. You have to shake a lot of hands. And these people are disgusting. It's gross. And so maybe, Covid's probably a good thing, right? I don't have to shake hands. I don't have to do that anymore."
The vice president has dismissed Troye as a "disgruntled employee," but Dr Anthony Fauci described her as a "good person" and an "important" member of the task force.

14:01
Daniel Chaitin, the breaking news editor at the Washington Examiner, seems to indicate that Saturday is going to be the day for Trump's pick.
And that is it from me today, I'll be back tomorrow, I'm handing over now to Joan…