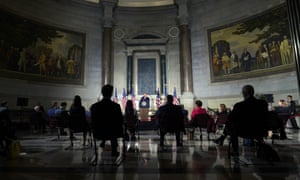 23:03




Eric Trump says he's willing to be interviewed for Trump Organization investigation





21:55




Federal judge blocks Trump administration's USPS operational changes





21:08




House committee wants answers on alleged White House family separations vote





20:42




Critics attack Trump's rewrite of race in America





20:21




Kamala Harris makes Philadelphia campaign stop





20:11




Trump: children have received 'decades of leftwing indoctrination in our schools'





18:09




Today so far

00:36
What has been, at this point, well over a month of negotiations for a new coronavirus stimulus package is still not seeing success as the House and Senate break for the weekend today.
House Democrats passed their $3.4tn package in May and have budged down to $2.2 trillion, according to Politico. Republicans meanwhile have been firm about a much slimmer $650bn relief package.
Moderate Democrats have urged House speaker Nancy Pelosi to go along with a slimmer package, with fears that if Republicans refuse to cooperate, there will be no aid until after the election. In a tweet yesterday, Donald Trump urged Republicans to "go for much higher numbers", though it's unclear whether the tweet had any real sway on Republican lawmakers.
Updated


00:20
Yosemite national park just announced that it will be closing due to "significant smoke impacts and hazardous air quality" coming from the wildfires along the west coast.
Starting at 5pm Pacific time today, park entrance stations and roads will be closed until conditions improve, which could mean closure for the next several days at least. The park said it will continue to assess air quality, smoke impact and fire activity throughout the region to determine when the park will be safe to reopen.
Yosemite joins Sequoia and Kings Canyon national parks in California, which have also closed due to wildfires in the region.
Updated


00:02
Donald Trump's response to the attack ad that was released this afternoon by Republican Voters Against Trump: "I never met her."
In the ad, Olivia Troye, who was an aide to Vice-President Mike Pence and was his top staffer on the White House's coronavirus taskforce, said that Trump "doesn't actually care about anyone else but himself" and emphasized his careless response to the Covid-19 pandemic.
Troye says that she left her job after seeing how the administration was handling the virus, but Trump told reporters that she was "terminated".
Updated


23:48
A controversial guidance from the Centers for Disease Control and Prevention (CDC) that said that those who have been exposed to Covid-19 did not need to get tested if they are not showing symptoms was not written by CDC scientists.
The New York Times just published a report that says several sources and internal documents have confirmed that CDC scientists were not onboard with the guidance and that it was written by the Department of Health and Human Services (HHS), which "dropped" it onto the CDC's website.
The Time's quoted an anonymous source who said that the guidance came from "the top down, from the HHS and the task force."
"That policy does not reflect what many people at the CDC feel should be the policy," the federal official said.
When the guidance was released, multiple public health experts raised alarms that it would hurt efforts to trace and contain the virus and that it was a sign that the CDC's integrity has been compromised by the White House's task force.
Dr. Anthony Fauci, the country's top infectious disease expert, said that he was "worried" by the guidance, specifically that it would lead people to believe that asymptomatic spread of the virus is not a concern.

23:25
Scott Atlas, a Trump coronavirus adviser, has threatened to sue a group of Stanford professors who wrote an open letter denouncing multiple public statement Atlas has made about responding to Covid-19.
A letter from his lawyer said the professors' statement "maliciously defames" Atlas and demanded the signers of the letters to withdraw their claims or be sued, according to Politico.
The open letter, which was published last Wednesday, said that Atlas's statements and opinions "run counter to established science and, by doing so, undermine public-health authorities and the credible science that guides effective public health policy". Over 100 faculty members with various medical expertise signed the letter.
In recent weeks, Atlas has raised concerns among public health experts by questioning the use of masks and embracing the controversial "herd immunity" response to the pandemic. Atlas was criticized for not having a background in public health or infectious diseases, as Trump's former top advisors Deborah Birx and Anthony Fauci had.
Updated


23:03
Eric Trump says he's willing to be interviewed for Trump Organization investigation
Eric Trump, the president's second-oldest son, said through his lawyers in a court filing today that he is willing to be interviewed by the New York attorney general's office for its investigation into the Trump Organization – the caveat being that the questioning has to take place after the election.
New York attorney general Letitia James is currently investigating the Trump Organization for allegedly inflating the value of its assets to secure loans and deflating it to avoid taxes. The investigation was launched in March 2019 after Donald Trump's former fixer Michael Cohen told Congress that Donald Trump misrepresented the value of his financial assets.
The AG's office has issued multiple subpoenas, including one for an interview with Eric Trump, which he has refused to comply with and has called "prosecutorial misconduct".
In his court filings today, lawyers for Eric Trump said that an interview must wait for after the election because of his "extreme travel schedule and related unavailability between now and the election" along with his desire to "avoid the use of his deposition attendance for political purposes".
Updated


22:46
Another former executive branch staffer has joined a group of Republican leaders and former Trump administration officials who are advocating against the president's re-election.
Politico reported this afternoon that Josh Venable, former chief of staff to education secretary Betsy DeVos who served from the beginning of Trump's tenure until October 2018, has joined the Republican Political Alliance for Integrity and Reform. The group was founded by two former senior Department of Homeland Security officials and is just one of a few groups of Republicans who are advocating against Trump in the lead up to the election, including Republican Voters Against Trump and the Lincoln Project.
Venable was listed by the group as an adviser, along with a handful of Republican leaders.
Updated


22:30
This is Lauren Aratani taking over for Kenya Evelyn. Republicans Voters Against Trump released an ad this afternoon featuring a former aide of vice-president Mike Pence.
In a two-minute ad, Olivia Troye, former homeland security and counter-terrorism advisor to Pence, who also served as Pence's lead staff member on his Covid-19 response, said that working at the White House led her to see that Trump "doesn't actually care about anyone else but himself".
Troye described herself as a lifelong Republican, having supported George W Bush and John McCain, but said "at this point, it's country over party".
A member of the White House's coronavirus taskforce, Troye said she distinctly remembers when Trump made a comment about how the pandemic may be a "good thing" since he doesn't like shaking hands with people. "I don't have to shake hands with these disgusting people," he remarked, according to Troye's recollection.
Troye pointed out that the "disgusting people" he referred to are his supporters, "the people he still claims to care about".
In an interview with the Washington Post, Troye further elaborated on her opinion of the president, saying that his response to the pandemic has showed a "flat-out disregard for human life" and repeated that his main concerns were his re-election and the economy.
A reporter on Twitter said that Pence has responded to Troye comments, saying "one more disgruntled employee who's left the WH decided to play politics during an election year".
Updated


22:12
Let's recap an eventful Thursday so far:
Here's what you have missed amid a Thursday full of historic debate:
Kamala Harris made a pit stop in Pennsylvania as Democrats tapped into Black Voting Power
Critics have condemned Donald Trump's revisionist American history
Meanwhile, the House energy and commerce committee wants answers from senior advisor Stephen Miller and health and human services secretary Alex Azar about a "show of hands" vote on child separation
A federal judge temporarily blocked the Trump administration's operational changes at the US postal service
Stay up to date as my colleague Lauren Aratani provides you with all the latest from the rest of Thursday right here on the politics liveblog.
Updated


21:55
Federal judge blocks Trump administration's USPS operational changes
Following reports of a scrapped plan to send masks to all US residences, a federal judge in Washington state has temporarily blocked proposed operational changes within the US postal service, accusing Donald Trump and Postmaster General Louis DeJoy of being "involved in a politically motivated attack on the efficiency of the Postal Service".

The ruling grants a request from 14 states to temporarily block the changes, blaming them for a slowdown in mail delivery that could potentially disrupt the 2020 presidential election.
From the Washington Post:



Stanley A. Bastian, chief judge of the U.S. District Court for the Eastern District of Washington, said that harm to the public "has already taken place" by changes put in place under DeJoy. Bastian ruled from the bench Thursday afternoon after a two-and-a-half hour hearing.

"The states have demonstrated that the defendants are involved in a politically motivated attack on the efficiency of the Postal Service. They have also demonstrated that this attack on the Postal Service is likely to irreparably harm the states' ability to administer the 2020 general election," he said.
Updated


21:45
Texas governor allows businesses to expand occupancy
Texas governor Greg Abbott announced on Thursday that some businesses across the state will be allowed to expand to 75% occupancy as early as this week.
After emerging as a hotspot in the coronavirus pandemic, Texas data now shows low hospitalization levels. But public health experts expect those numbers to surge as businesses and schools reopen.
Those permitted to expand capacity include restaurants, gyms, shopping centers, libraries and museums. However, bars will remain closed.



Until additional medical treatments are available, we must continue the safe practices that slowed the spread [of Covid-19] this summer. That includes staying at home if you're sick, sanitizing your hands, maintaining safe distances & wearing a mask.
Greg Abbott, governor of Texas
Updated


21:25
More of the fallout from the White House on American history:
Following a revisionist speech at the first White House Conference on American History, in which Donald Trump introduced the 1776 Commission that will establish "patriotic" and "pro-America" education: members of the Trump administration – including education secretary Betsy DeVos – remain mum on the backlash.
Updated


21:08
House committee wants answers on alleged White House family separations vote
The US House energy and commerce committee announced it has called on Alex Azar, US secretary for health and human services, following an NBC News report detailing White House senior adviser Stephen Miller's "show-of-hands" vote on family separations.
The NBC News report alleges that Miller and "other Trump administration officials were invited to a May 2018 meeting in the White House Situation Room where they voted by a show of hands to separate migrant children who crossed the border illegally with their parents".
New from correspondent Jacob Soboroff:
Updated


20:42
Critics attack Trump's rewrite of race in America
The backlash is swift for Donald Trump following the White House Conference on American History, where he delivered remarks earlier today that critics and journalists quickly factchecked as blatantly false.
The president, who called curriculum on race "toxic propaganda, an ideological poison that, if not removed, will dissolve the civic bonds", continued his administration's efforts to restrict the telling of American history in schools to erase a legacy of racism, genocide and imperialism. More on that from Politico:



Trump recently threatened to nix federal funding for California schools that teach the 1619 Project, while the White House issued a government-wide directive to stop what it called "un-American propaganda training sessions" about race.
Responding to the president's remarks, journalist Nikole Hannah-Jones, the project's author, made an observation on who isn't included in Trump's retelling of American history:
Updated


20:21
Kamala Harris makes Philadelphia campaign stop
This is Kenya Evelyn in Washington briefly taking over our politics live blog. Here's what we're following right now.
The campaign for Joe Biden continued its outreach to black voters Thursday, with running mate Kamala Harris making a stop in Philadelphia, Pennsylvania, to engage community leaders in the battleground state.
The California senator and VP nominee maintained social distance, however, bouncing elbows with people. Harris later called on Congress to pass voting rights legislation at a "Sister to Sister" community panel on women's empowerment.
Democrats' fight for black voters ramped up as polls showing the race tightening in states like Wisconsin, Minnesota and Michigan following the national convention. Harris was just in Milwaukee, where the scaled-down national convention left Democrats with a void of black voter enthusiasm.
As anti-racism protests enter their fourth straight month around the globe, the former vice-president and Harris will make additional stops in key states where Black Americans have disproportionately been impacted by the coronavirus pandemic and recession that followed.
Key up with the Guardian's coverage of black voters ahead of the 2020 presidential election with our latest series: Black Voting Power.
Updated


20:11
Trump: children have received 'decades of leftwing indoctrination in our schools'
Donald Trump has launched an extraordinary attack on education at a history conference in Washington DC, claiming children have been subjected to "decades of leftwing indoctrination" and saying the founding of America "set in motion" the end of slavery.
"Our children are instructed from propaganda tracts, like Howard Zinn," Trump said. "The left has warped, distorted, and defiled the American story."
Trump said children should know "they are citizens of the most exceptional nation in the history of the world".
The government, Trump says, is planning to introduce a "pro-American education" – "that celebrates the truth about our country's great history".
Trump then attacked the New York Times' 1619 Project. The Pulitzer Prize-winning project was published last year to cast a spotlight on the 400th anniversary of the first slave ship arriving in America.
The 1619 project "warped" the American story, Trump said. The president said the project claimed the US was "founded on the principle of oppression, not freedom".
Instead, "America's founding set in motion the chain of events that abolished slavery", Trump claimed.
Trump then moved on to statues – "leftwing mobs have torn down statues of our founders", he says – in a classic appeal to his base, who disapprove of monuments to slave owners being removed.
Updated


19:52
I didn't know Mike Pence was due to speak at this National Archives event – officially the event is called the White House history conference – but here he is.
Pence sets the scene with a run through of the Declaration of independence and the constitution – "the greatest charters of freedom the world has ever known", Pence says.
Then its a straight-up attack on education and, seemingly teachers:
"Sadly we live in a time when some are seeking to erase our history," Pence says.
Millions of people in the US are educated by people who "seek to wipe out our history", the vice president claims.
Pence seems to be setting up Trump to – as reported – denounce some US schools' focus on slavery and racism in history lessons.
Updated


19:32
Donald Trump is about to speak at the National Archives in Washington – where he's expected to attack some US schools' focus on slavery and racism in history lessons.
As we noted earlier: "The president will specifically criticize the New York Times' '1619 Project.' The Pulitzer Prize-winning project was published last year to cast a spotlight on the 400th anniversary of the first slave ship arriving in America."
We'll post updates, and video of the event is live here.
Updated