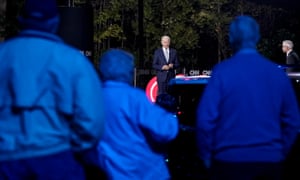 01:58




Biden town hall so far





01:22




Joe Biden says "I don't trust the President on vaccines."





00:39




Wuhan re-opens for international flights





00:22




Heavily criticised US CDC testing guidelines were not written by CDC – reports





23:47




Global coronavirus cases pass 30m





23:33




Summary

02:17
"Mr President, I look out over my Biden sign in my front yard and a see a sea of Trmp signs. What are you going to do to build a bridge?," Biden is asked.
Biden says that as president, he would be leading a "divided nation and a world in disarray," and that he plans to unite the country. "I'm going to be America's president," he says.
Anderson Cooper asks whether he still thinks it is possible to reach across the line. Biden says he is "confident" that he will be able to:
"With Trump out of the way, and his vitriolic attitude and his way of getting rid of people. Revenge."

02:15

02:10
From CNN:



Joe Biden said that his preparation for the three presidential debates against Donald Trump has so far been informal, but the former vice president said he is "looking forward" to taking on the President.

'I have gone back and talked about and looked at not only the things he said, but making sure I can concisely say what I'm for and what I'm going to do,' Biden said.

The Democratic nominee said there is not yet a person in his campaign playing Trump in debate preparation.

'There are a couple of people, they ask me questions if they were like as if they were President Trump," Biden said. "But I'm looking forward to it.'

Trump said this week that he is preparing by doing what he does 'every day, by just doing what I'm doing.'
Updated


02:09
We'll be sullying this blog's name with non-coronavirus related responses from Biden, too (forgive us).
Trump is asked by a US army veteran, "Will you bring my brothers and sisters home," from Afghanistan.
He says he would bring the troops home and that he opposed a wider involvement in Afghanistan.

02:06

01:58
Biden town hall so far
On protecting people at work from Covid-19: "I would lay out the broad strokes of what has to be done to make people safe in the workplace, and safe in school. And that requires us to have rapid testing, the protective gear available from the very beginning like this president hasn't done. Making sure we provide for the ability for workplaces to have the wherewithal to provide for the safety. That requires some federal funding, particularly kids going back to school."
On Trump's response to the pandemic, and reports that he intentionally downplayed the dangers of the virus (Trump insists that he 'up-played' the risks): "But he knew it. He knew it, and did nothing. It is close to criminal."
On Trump and vaccines: "I don't trust the President on vaccines. I trust Dr. Fauci. If Fauci says a vaccine is safe, I would take the vaccine. We should listen to the scientists, not to the President."
On Attorney General Bill Barr saying recently that nationwide lockdowns were the "greatest intrusion on civil liberties" in history "other than slavery.": "What Bill Barr recently said is outrageous…I will tell you what takes away your freedom, not being able to see your kid, not being able to go to the football game or baseball game, not seeing your mom or dad sick in the hospital, not being able to do the things, that's what is costing us our freedom."
Biden said: "I've been doing this a long time, I never thought I would see such a thoroughly, totally irresponsible administration." He cited a Pew poll that shows that people trust the leaders of Russia and China more than the US President.
One of the key messages from Biden tonight: "I view this campaign as a campaign between Scranton and Park Avenue."

01:49
There's an ad break on now. We'll be bringing you the latest as soon as that's over. In the meantime, get in touch on Twitter @helenrsullivan.

01:47
From CNN:



Former Vice President Joe Biden laid out his plan tonight to help Americans affected financially by the coronavirus pandemic.

The question on getting Americans back to work was raised by Sheila Shaufler, who voted for President Trump in 2016. She claimed that many frontline workers are making much less than people on unemployment who she said have benefited from the stimulus payments.

Biden, the Democratic presidential nominee, said he would first address the need for additional health care workers and "pay them in ways that is a living wage."

'So they don't have to live hand to mouth,' he said.

01:47
"There are a lot of people who are worried about a break down in law and order in this country. Are you one of them?," Biden is asked by the event's host, Anderson Cooper.
Biden says that he's worried about the breakdown in law and order when the president talks about people the way he does.

01:45

01:43
Biden is asked whether he benefitted from white privilege and answers yes, but he also takes the conversation back to his childhood in Scranton.
"Guys like me where the first in my family to go to college," he says.

01:40
Biden has said, "I view this campaign as a campaign between Scranton and Park Avenue," and has tweeted the message, too.
"All Trump can see from Park Avenue is Wall Street. All he thinks about as the stock market."

01:37

01:30

Helen Sullivan
Hi, Helen Sullivan here. I'll be blogging this town hall with Joe Biden live until it ends, (with a focus comments made regarding Covid-19).
Get in touch with questions and comments on Twitter @helenrsullivan.
Updated


01:27
Here is a story on that poll mentioned by Biden, headlined, "Trump is less trusted than Putin and Xi and the US is hitting historic lows of approval from its closest allies."
Business Insider reports:



Pew Research Centre polled more than a dozen US allies' public attitudes and the results show a further decline in Trump's favorability since he became president.

A handful of them, including the United Kingdom, France, Germany, Japan, Canada and Australia, gave their lowest favourable views of the US on record since Pew started polling nearly two decades ago.

In Canada, one in five people expressed confidence in Trump, a drastic drop from 51 per cent who held that view a year ago.

Similarly, Germans gave the US some of "its worst ratings," the authors note, with only 10% who said they have confidence in Trump, compared with 13% in 2019 and 86% in 2016 while Barack Obama was president.

Most people across the 13 countries surveyed said they have less trust in Trump to "do the right thing" than they do in Russian President Vladimir Putin and Chinese President Xi Jinping.
Updated


01:26
"I've been doing this a long time, I never thought I would see such a thoroughly, totally irresponsible administration," says Biden.
He cites a Pew poll that shows that people trust the leaders of Russia and China more than the US President, because of Covid-19. I'll try track that poll down.
Updated