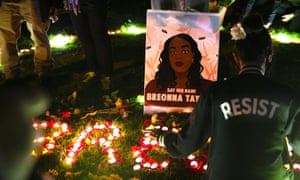 13:15




Poll – Biden maintains five-point lead over Trump in Wisconsin





13:02




Police say 'close to 100 arrests' at Breonna Taylor protests in Louisville, Kentucky overnight





12:35




Breonna Taylor's family attorney says wanton endangerment charge 'doesn't make sense'

13:19
Associated Press reporters have been speaking to various people who were out on the streets of America's cities last night to protest for justice for Breonna Taylor.
One person spoken to was Carmen Jones, who says she has protested in downtown Louisville every day for nearly three months. She said she feels despair after the grand jury's decision and doesn't know what's coming.
"We're tired of being hashtags. We're tired of paying for history in our blood and our bodies and being told to respond to this violence and aggression with peace," she said. "We did it the Martin way for the entire summer, and it got us nowhere. Maybe it's time to do things the Malcolm way."
Jones said she still hopes their demonstrations will lead to systemwide change in the US, but the decision in Taylor's case makes her feel like her life doesn't matter in America.
"I don't think I'll sleep the same ever again, cause it would happen to any of us," she said. "The system does not care about Black people. The system chews Black people up and spits us out."

13:15
Poll – Biden maintains five-point lead over Trump in Wisconsin
More polling – there's a new Wisconsin poll, coordinated by the UW-Madison Elections Research Center in collaboration with the Wisconsin State Journal. It finds that Joe Biden maintains a five-point lead over Donald Trump. Absentee voting has already started in the state. The Journal Times reports:



Biden has the support of half of likely voters — those who say they're certain to vote. When compared to previous Wisconsin polls this year, one of the standout results is how little voters have changed their minds.

"It really is notable just how stable the vote division is between Biden and Trump despite all the things that have happened over the course of the summer," said Barry Burden, a UW-Madison political science professor and director of the Elections Research Center. "None of those things seemed to have budged the polls more than a couple of percentage points, and Joe Biden has maintained a very consistent, durable lead over Trump, despite all the turmoil in the environment."

As with other polls, Trump's overall job performance remains relatively stable, with 30% of Wisconsin respondents strongly approving the presidents overall job handling. Another 46% strongly disapprove.
Read it here: The Journal Times – Biden maintains lead over Trump

13:02
Police say 'close to 100 arrests' at Breonna Taylor protests in Louisville, Kentucky overnight
Police have announced that they made close to 100 arrests in Louisville, Kentucky, yesterday during the protests over the grand jury's decision to not indict officers in the fatal shooting of Breonna Taylor.
The Associated Press report that a police statement released early this morning says some people were arrested after damaging businesses and more were detained after jumping on city vehicles being used as barricades. Later, protesters who refused orders to disperse were arrested for curfew and unlawful assembly violations.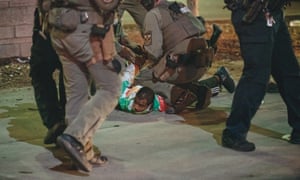 Police also said some businesses were looted early Thursday including two City Gear stores and a pawn shop.
No further information was released about a suspect accused of shooting two officers while demonstrations were ongoing. Police said one of them underwent surgery and both are expected to survive.

12:57
There has been a lot of noise generated by Donald Trump's refusal at his press briefing yesterday to commit to a peaceful transfer of power should he lose November's election.
Republican Steve Stivers has popped his head above the parapet this morning on the issue. The Ohio congressman has this morning tweeted that "Nothing defines our Constitutional Republic more than the peaceful transition of power. I've taken an oath to support and defend the Constitution, and I will uphold that oath."
You can read more Trump's press briefing here: Trump won't commit to peaceful power transfer at surreal press briefing

12:48
Alexander Burns and Jonathan Martin have a state of the polls piece in the New York Times this morning. Their analysis shows:



Donald Trump is on the defensive in three red states he carried in 2016, narrowly trailing Joe Biden in Iowa and battling to stay ahead of him in Georgia and Texas.

Trump's vulnerability even in conservative-leaning states underscores just how precarious his political position is. While he and Biden are competing aggressively for traditional swing states like Wisconsin, Pennsylvania and Florida, the poll suggests that Biden has assembled a coalition formidable enough to jeopardize Trump even in historically Republican parts of the South and Midwest.

A yawning gender gap in all three states is working in Biden's favor, with the former vice president making inroads into conservative territory with strong support from women. In Iowa, where Biden is ahead of Trump, 45 percent to 42 percent, he is up among women by 14 percentage points. Men favor Trump by eight points.
Read it here: New York Times – Trump faces challenges even in red states, poll shows, as women favor Biden

12:35
Breonna Taylor's family attorney says wanton endangerment charge 'doesn't make sense'
The Taylor family attorney Benjamin Crump has been talking to Savannah Guthrie on Today this morning.
Clearly emotional, Crump said that yesterday's events "underscores what I've said many times. We seem to have two justice systems in America, one for black America, and one for white America."
He said the Taylor family were "outraged, insulted and, mostly, offended."
With regard to the wanton endangerment charge faced by one officer, Crump said "it doesn't make sense".



They had wanton endangerment for the white neighbor's apartment, the bullets going there. But not for the bullets going into Breonna Taylor's body. Nor do they have wanton endangerment for the bullets that went into the black neighbor's apartment above Breonna.

If you have wanton endangerment for somebody shooting blindly, or officers shooting recklessly, wouldn't that rise to the occasion of wanton murder in Brianna's case? Because she died. Then you need to make that argument to the grand jury. Breonna's name wasn't even listed on the indictment. So you talk about transparency, Breonna's family would love to see the grand jury transcript to see if there was any evidence presented for Breonna Taylor's perspective. I mean, nothing seems to say that Breonna mattered.
You can watch the clip here:

12:14
Anand Giridharadas has published on The Ink this morning a conversation with Kentucky state representative Charles Booker. He is a former Democratic candidate for the Senate, and a family friend of Breonna Taylor. He told Giridharadas:



The powerful thing about Breonna, in her life and her death, is that she is telling the story of structural inequity, the story of generational poverty, of criminalization. The arc of her life shows her overcoming adversity as a young Black lady trying to advance her career in the face of folks who don't want to give her a chance because of where she's from, her name's pronunciation, whom she's related to. It showed the dynamic of lack of investment in communities, and the criminalization of communities that ultimately led to a justice system trying to crack down, to the benefit of development in cities. All of this led to her door being kicked in.

I think you need stories like this to help shine the light more broadly. Breonna Taylor was good friends with my family. Being able to see her as a human being that was doing the best she could, connected to people that felt like they didn't have any options. And then, facing the brunt of the justice system that saw her as a deadly weapon before seeing her as a human being. All of that is on full display. And it happened in her home.
Read it here: The Ink – America kicked in her door

12:05
If you want a quick recap of what happened overnight, our multimedia team have put this report together on the Breonna Taylor demonstrations and protests.

12:03
Welcome to our live coverage of the day's politics in the US, which will be dominated today by reaction to the grand jury decision yesterday not to charge any of the officers involved with the killing of Breonna Taylor. Here's a quick round-up of where we are, and what is in the diary for today
The Jefferson county grand jury has indicted one of the officers involved in the shooting of Breonna Taylor. Former Louisville police officer Brett Hankinson faces three felony counts of first-degree wanton endangerment. None of the other officers involved in the fatal shooting were indicted. No homicide charges were issued.
Thousands of people joined protests in many major US city which saw protesters chanting "Say her name! Breonna Taylor" and "No justice, no peace". Posters and shrines dedicated to Taylor were seen all around as protesters marched.
Two police officers in Louisville were shot and suffered non-life-threatening injuries. Louisville police have one suspect in custody.
A car drove through protests in Denver, there were no injuries. Chemical agents were used on protesters by the authorities in Atlanta and other cities. A riot was declare in Portland, Oregon, where police shared a video which appeared to show them being attacked with a Molotov cocktail.
There were 41,481 new coronavirus cases reported in the US yesterday – and 1,091 further deaths.
At a press briefing yesterday, Donald Trump again refused to commit to a peaceful power transfer if he loses November's election.
At 10am this morning the president and first lady will head to the supreme court to pay their respects to justice Ruth Bader Ginsburg.
Later, Donald Trump will deliver remarks on "the America First Healthcare Vision" in Charlotte, North Carolina, then head to Jacksonville, Florida, for a campaign rally.
Vice president Mike Pence and Ivanka Trump are campaigning in Minneapolis, the city where George Floyd was killed by police. They will be attending an event with "Cops for Trump".
Senator Bernie Sanders will deliver what is billed as "a major address on the unprecedented and dangerous moment we are in right now given president Donald Trump's unique threats to our democracy" at George Washington University at 1pm.
I'm Martin Belam, and I'll be taking you through the next couple of hours. You can get in touch with me at martin.belam@theguardian.com