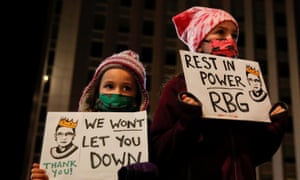 11:45




Biden campaign in huge cash boost over Trump





11:27




Women arrested after attempting to send poisoned package to White House





11:21




Robert Graetz, minister who helped organize Montgomery Bus Boycott, dies at 92

11:55
Sam Levine and Alvin Chang report for us this morning on new data obtained by the Guardian that provides some of the most detailed insight yet into widespread United States Postal Service mail delays this summer.



Shortly after taking the helm, Louis DeJoy – a major Republican donor with no prior USPS experience – implemented operational changes he said were intended to make the financially beleaguered agency more efficient. Those changes, which included an effort to get postal trucks to run on time, led to severe delays and widespread public outcry this summer.

In late August, DeJoy announced he was putting the changes on hold until after the election, and last week a federal judge in Washington blocked USPS from implementing them. The changes were clearly aimed at "voter disenfranchisement", given the increased role USPS will play in this year's presidential election, the US district judge Stanley Bastian wrote in his ruling.

"It is easy to conclude that the recent Postal Services' changes is an intentional effort on the part the current Administration to disrupt and challenge the legitimacy of upcoming local, state, and federal elections," Bastian wrote.
Read it here: Revealed: evidence shows huge mail slowdowns after Trump ally took over

11:45
Biden campaign in huge cash boost over Trump
The Biden campaign team have been touting a significant cash advantage over the Trump team this weekend. On Friday, Trump's campaign communications director Tim Murtaugh announced they had $325 million cash on hand.
On Sunday, Biden's team revealed that they have $466 million cash on hand, an advantage of $141m.
Some reasons for the disparity, given that Biden's fund-raising was way behind the president's earlier in the year?
Firstly, Democrats were more cautious with their spending in spring, when Trump was advertising heavily. Secondly, the Biden campaign saw a spike in donations after Kamala Harris was named as his VP pick.
As Politico report:



Last month, the Trump campaign significantly reined in its TV advertising, even going off the air at times in Pennsylvania, Michigan, Ohio and Minnesota. Biden ended up outspending Trump more than 3-to-1 on TV in August, $69.9 million to $18.8 million, according to Advertising Analytics.

The cuts to Trump's TV spending reflected a growing fear of a cash crunch for the campaign, as Biden caught up in fundraising. But Trump officials have pushed back on the notion that they're facing financial problems, pointing to a focus on digital and in-person campaigning, among other things.

11:31
A quick snap report from Reuters here about US-Russia relations over nuclear weapons. The Russians say that they see "minimal" chances of extending the New START treaty with the United States – the last major nuclear arms pact between the two countries – because it does not accept conditions set out by Washington. The quote is from deputy foreign minister Sergei Ryabkov, who was talking earlier this morning.
His comments came after Marshall Billingslea, the US special presidential envoy for arms control, told a Russian newspaper that Moscow must accept a joint agreement with the United States on extending the treaty before the US presidential election in November.
"I suspect that after President Trump wins re-election, if Russia has not taken up our offer, that the price of admission, as we would say in the US, goes up," Billingslea told Kommersant newspaper in an interview.
Ryabkov said the condition stated by Billingslea constituted an ultimatum and lowered the chances of reaching any kind of agreement to extend the deal, which expires in February next year.
"We cannot talk in this manner," TASS news agency quoted Ryabkov as saying. Another agency, RIA, quoted him as saying the chances of a treaty extension were minimal.
The New START accord, signed in 2010, limits the number of strategic nuclear warheads that Russia and the United States can deploy.
Failure to extend it would remove the main pillar maintaining the balance of nuclear arms between the two countries, adding yet another element of tension to their already fraught relationship.

11:27
Women arrested after attempting to send poisoned package to White House
Associated Press are reporting that a woman suspected of sending an envelope containing the poison ricin addressed to the White House has been arrested at the New York-Canada border.
The letter had been intercepted earlier this week before it reached the White House. The woman was taken into custody by US Customs and Border Protection officers at the Peace Bridge border crossing near Buffalo and is expected to face federal charges, officials said. Her name was not immediately released.
The letter addressed to the White House appeared to have originated in Canada, the Royal Canadian Mounted Police have said. It was intercepted at a government facility that screens mail addressed to the White House and President Donald Trump and a preliminary investigation indicated it tested positive for ricin, according to the officials.
There have been several prior instances in which US officials have been targeted with ricin sent through the mail.
A Navy veteran was arrested in 2018 and confessed to sending envelopes to Trump and members of his administration that contained the substance from which ricin is derived. In 2014, a Mississippi man was sentenced to 25 years in prison after sending letters dusted with ricin to Barack Obama.

11:21
Robert Graetz, minister who helped organize Montgomery Bus Boycott, dies at 92
Some sad news overnight here. The Montgomery Advertiser reported late last night that Rev. Robert Graetz, whose support of the 1955-56 Montgomery Bus Boycott made him a target of segregationists and sparked a career dedicated to social justice, died on Sunday. He had been in hospice care and was 92. The paper reports that:



Graetz was the only white clergyman to support the boycott, and like other participants in the boycott, the reverend and his family persisted in the face of harassment, terrorism, and death threats that extended to their preschool children. The family home was bombed twice, and while arrests were made, no one was ever convicted. Graetz often became emotional remembering the bombings in later years.

Graetz had spent barely six months as the pastor of Trinity Lutheran Evangelical Church in 1955 when Black leaders in the city organized the boycott, following Rosa Parks' arrest on 1 December. The Sunday after the arrest and first organizational meetings, Graetz encouraged his congregation to unite behind the protest.

"Let's try to make this boycott as effective as possible because it won't be any boycott if half of us ride the buses and half don't ride," Graetz told the congregation. "So if we're going to do it, let's make a good job of it."

With a full schedule that included preaching at churches in Clanton and Wetumpka, Graetz took an active role in the boycott. From 6am to 9am each day, he drove a Chevrolet in support of the boycott, shuttling as many as 50 people a day between home and work.
Read more here: Montgomery Advertiser – Robert Graetz, minister who helped organize Montgomery Bus Boycott, dies at 92

11:14
If you need a quick refresher on what is at stake here, our video team have put together this explainer on why Democrats are worried about the prospect of a conservative majority supreme court for decades to come, and are hoping to push back the appointment of a replacement for Ruth Bader Ginsburg until after an election they hope to win.

11:11
Within hours of the death of Ruth Bader Ginsburg, Donald Trump tweeted that he would select her replacement "without delay", then said he would select a woman. He recently issued a list of potential supreme court nominees, and one of the women on it, considered a front-runner for the pick, is Amy Coney Barrett. Here's Soo Youn in Washington with a profile of the woman who might end up at the centre of the supreme court storm as election day approaches:



In Barrett, 48, conservatives see a young, strict constructionist who interprets the constitution through what she thinks its writers intended – a jurist in the mold of Antonin Scalia, the conservative justice (and close friend of Ginsburg), who died in February 2016 and for whom Barrett clerked.

That the devout Catholic mother of seven – she and her husband, Jesse M Barrett, have five biological children and adopted two from Haiti – is seen as a potential successor to Ginsburg has raised concerns among progressives. Many fear that if confirmed on the bench, Barrett would vote to overturn Roe v Wade, the 1973 ruling which safeguards the right to abortion.

Barrett opposes abortion. And she has already fielded questions about her faith and its role in how she views the law. During a 2017 confirmation hearing, Senator Dianne Feinstein of California commented: "The dogma lives loudly in you."

Some said the remark was discriminatory against Catholics. But some who know Barrett said the line of questioning went to the heart of what makes her a good candidate for the supreme court, as her responses showed a dispassionate temperament and calm demeanor.
Read more here: 'I'm saving her for Ginsburg': who is Amy Coney Barrett, Trump's likely supreme court pick?

11:04
Here's a clip of Joe Biden making his appeal to moderates across the aisle:



"I'm speaking to those Republicans out there, Senate Republicans, who know deep down what is right for the country and consistent with the constitution."

11:00
Good morning, welcome to our coverage of US politics for Monday, which will inevitably be dominated by the continuing row over filling the seat on the supreme court vacated after the death of Ruth Bader Ginsburg. Here's a catch-up on where we are, and a little of what we might see today.
"You can't unring the bell" – in Philadelphia last night Joe Biden appealed to more moderate Republicans to do the right thing by their conscience, and wait until after the election before appointing a new US supreme court justice.
He quoted back Sen. Lindsey Graham's own words from 2016 when Republicans stalled on accepting Barack Obama's nomination of Merrick Garland for the court because it was an election year.
It wasn't the Democratic nominee's most assured performance though. On social media Republican commentators made much of the fact that Biden mangled his numbers and appeared to say that 200,000 million Americans had died from coronavirus.
Lisa Murkowski of Alaska has joined Susan Collins of Maine in opposition to Mitch McConnell's plan to push through a new supreme court justice – but he can still afford one more defection before November.
There were 213 new coronavirus deaths and 36,401 new cases reported yesterday. Worryingly that is slightly up on the average from two weeks ago, when numbers usually take a dip on a Sunday because of the way they are recorded.
A leak revealed $2tn of possibly corrupt US financial activity. Among those named in reports is Paul Manafort, former political strategist for Trump.
There may be an executive order from Trump imposing further sanctions on Iran.
The president has two campaign stops today. Donald Trump deliver remarks on "Fighting for the American Worker" in Dayton, Ohio at 5pm ET, then moves on to Swanton for a "Great American Comeback" rally.
I'll be here for the next couple of hours and you can get in touch with me on email at martin.belam@theguardian.com
Updated